8/10/2018
This is a music festival in Murfreesboro I ran into on Facebook a few weeks ago.  It's at Autograph Rehearsal Studio located on W College St, which I'd never heard of before.  It's a 2 day festival and was $17 including fees.  I've never heard of the bands, but being right here in Murfreesboro, I was in.  It features local rock and metal bands.
I ate a lot at Cicis Pizza beforehand and arrived at the venue about 7, missing the first band Purgatoria.  They were doing set change so had to wait about 30 minutes for next band to start. A guy named Xander asked what band I was there to see, which is no one in particular.  Said he was here to see MindMaze.  A long haired guy that was standing around waiting joined in on the conversation too and somehow they ended up talking about religion and mythology.  The long haired guy was a nordic pagan, so they mostly talked about that and the vikings.  Since I don't know much on this topic, I just listened.
First band
The first band (I think Neptune the Mystic?) I saw had 5 members: male singer, female guitar who sometimes did vocals, bass, drums, and keyboard. The keyboard player had two keyboards one on top of the other.  When I've seen this before, usually the top keyboard is smaller and substitues for a bass guitar.  This one wasn't smaller though and, like stated before, they had a bass guitar.  I didn't really try too hard to figure out the different functions of the keyboards.  The female vocalist didn't sound like pure screaming, but it wasn't really singing either. Kind of hard to explain, as it was different. The male singer had lit up glasses which I don't remember seeing in another band before. This band had the most unique sound of the 3 bands I heard tonight, and my favorite of the 3. Too bad I'm not sure of the name. Sometimes it's hard to hear and understand the name of the band, so it was bound to happen at some point on this blog.  They only announce it once. Oh well.
They had a lot of effects throughout their show.  It started off completely dark except for a flashing light that had been pretty annoying during set up (sorry).  It was right above the bass drum and went off whenever the bass was hit.  During their performance, the keyboard player blocked the direct light from me usually, so it was cool. When the room was completely dark otherwise, the flashing light gave a tripy feeling watching the guitar players. Almost like the guitars and musicians were moving in slow motion. After a song or two they turned lights back on again. They'd go from light to dark in the room back and forth, which definitely made it more interesting.  I didn't take pics or videos of this band, though definitely should have.
My nose acted up during the show with allergies.  I was fine talking to those 2 guys before the show in the same room so don't know why it acted up now during the show.  Was distracted by it during this band.  Thankfully after taking a pill I was better for the other 2 bands.
Obelisk
Obelisk was the next band.  I missed some of them, as I hadn't realized they had started playing.  So I didn't hear as many songs from them as the first band.  It was a pretty similar set up to the first band, 6 people though. Drums, bass, 2 guitars, one keyboard/ guitar depending on song, and male vocals screamer.  This was a pure metal band here, liked their instrumental parts a lot though.  The vikings guy and another guy went to town, so me and the rest of the crowd backed up for the metalhead circle.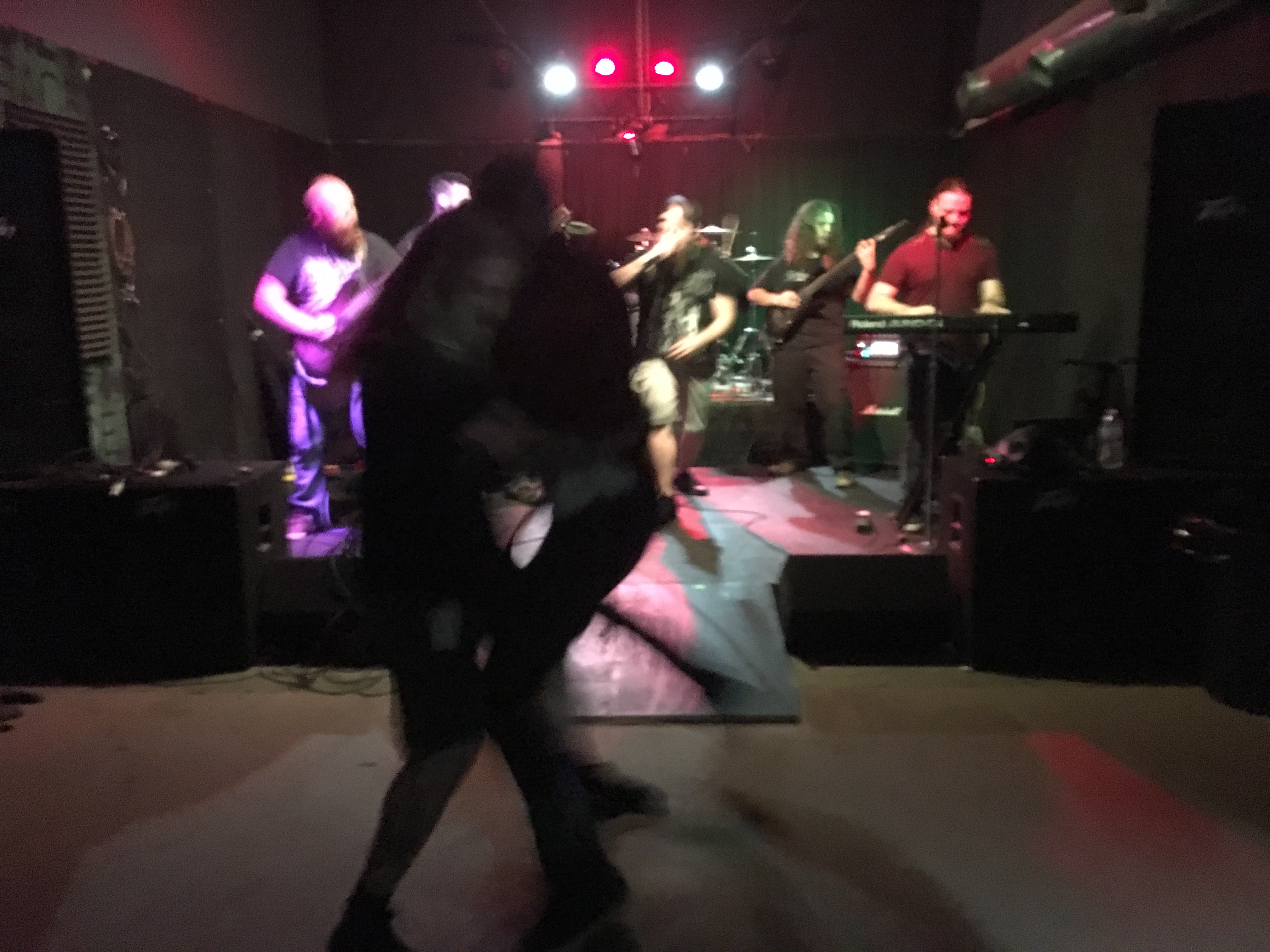 I talked to Xander afterwards asking about his books.  Even though it came up in religious and mythology talk, they didn't seem to be religious at all when he showed me the descriptions.  He went to talk to MindMaze to let them know he was still interested in filming a future music video for them.  I heard some talk from another group about how Ambien drug is so cool, stuff that makes me laugh and roll my eyes at the same time.
Sic Semper Tyrannis
Sic Semper Tyrannis was next with a smaller simple band.  Male vocals screaming, lead guitar, bass, and drums.  They played a song titled Time to Hang, among others.  The guitar player went out into the crowd a few times, and had fun with the vikings guy and some others.  Vikings guy and others did their metalhead stuff when he got back on stage too.  I liked this band better than Obelisk.
I had to head out after this band, since it was getting late and had work the next day.  Wouldn't get to see MindMaze, but knew I'd see lots more bands the next day.